French Wheat Crop Quality Threatened After a Deluge of Rain
French wheat fields have been hit by a deluge of rain in the past month, threatening to reduce the quality of grain before farmers start harvesting crops in July.
Some areas of France, the European Union's largest wheat grower, saw as much as 10 inches (25 centimeters) of rain in May, more than three times the normal amount for the month, Dale Mohler, a senior meteorologist at AccuWeather Inc., said by phone.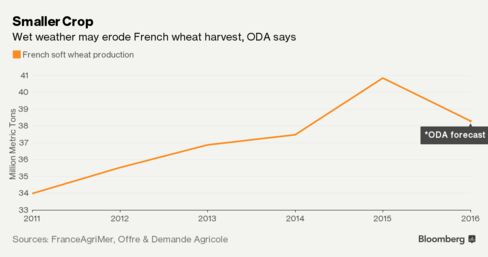 Excess rain, especially as the harvest nears, can cut grain quality or make crops more susceptible to fungal diseases that may affect yields, said Paul Gaffet, an analyst at Offre & Demande Agricole in Bourges, France. The farm adviser expects French production to drop to 38.3 million metric tons, 6.3 percent less than last year's crop.
There are already signs of deterioration, with FranceAgriMer last week reporting 83 percent of fields in good or excellent condition, down from 86 percent a week earlier and 91 percent at the same time last year. Plant development is also lagging behind last year.
"There was a lot of rain, and it's a problem for wheat at the flowering stage," Gaffet said by e-mail Tuesday, referring to a phase of plant growth that helps determine yields. Durum wheat, the variety used to make pasta, is also facing quality concerns, he said.
Hail Storms
Last year, good weather helped French wheat farmers harvest a record crop, adding to a global glut of grain and helping send Paris futures in February to the lowest level since 2010. Soggy conditions hurt the quality of the 2014 crop, leaving much of it suitable only for animal feed.
Parts of France also saw hail storms in the past week that damaged grapes in a number of wine-growing regions. Hail might have caused localized damage to some wheat, but it probably won't be enough to affect national production levels, Gaffet said.
Rains may continue for the next few days, while warmer temperatures and sunshine in the middle of next week could help fields dry out somewhat, according to AccuWeather's Mohler. After that, another round of showers is expected for June 10-15, he said.
"There's a little bit of everything in the forecast for France," Mohler said. "It's a mixed forecast, with some good news and some bad news."